Everything you need to know about Franky Zapata
ZAPATA: THE PROJECT OF A PASSIONATE MAN'S AMBITION
To understand the project behind ZAPATA, one must delve into almost 30 years of development. Race pilot at the age of 16, and head of a company by age 20, Franky ZAPATA showcases an extraordinary path that requires perspective to understand its depth.
«I've pursued the same ambition ever since I was a young boy: flying as birds do.
It took me several decades to make this a reality, but what I am the proudest today is allowing anyone to experience it as well.»
FROM JET SKI PILOT TO CEO

Franky ZAPATA, inventor, founder, and CEO
Another passion of Franky Zapata has always been speed, he chose to start his career in the jet ski world where he worked relentlessly to become the best in his field. In his first year of competition in 1996, he won his first title of French champion in the stand-up jet ski category. Building on this success, Franky founded ZAPATA Racing – a competitive motorized watercraft team – in 1998.
He won several European trophies and eventually his first world title in 2007. Leveraging his experience, Franky ZAPATA created his first company in 2008 with ZAPATA Racing as its brand. Previously a sports team captain, he became head of a company. In accordance with the performance-driven spirit of competitive racing, he established his business as the design and production leader of Made in France watercrafts.
FLYBOARD: A WORLD-RENOWNED INVENTION
Driven by his childhood dream of flying, Franky ZAPATA aimed to develop a new type of vehicle that would allow people to soar through the air. Following this vision, he decided to diversify his activities and developed the first version of a new prototype in 2011: "Flyboard®".
Designed in less than 24 hours and patented in 2011, Flyboard® is a hydro-propelled device that quickly gained worldwide enthusiasm. This versatile machine can be used both as a recreational toy and a sports device.
Widely distributed on all five continents through the ZAPATA global network, it is frequently featured in shows and events. Flyboard® also had a dedicated world cup held in Qatar in 2012. In less than two years, nearly 10,000 units had been sold.
FLYBOARD® AIR: A TECHNOLOGICAL GEM PUSHING THE LIMITS OF AIR MOBILITY
The inventor achieved a technological breakthrough in 2016 with his second prototype, Flyboard® Air. Using Flyboard® as a foundation, he switched environments and transitioned from water to air.
This groundbreaking invention opened a new era in ZAPATA's development, strongly establishing the company within the VTOL (Vertical Takeoff and Landing) ecosystem.
Unlike the previous prototype which used water for propulsion, this new creation relies on turbojets to offer a unique freedom of movement. Developed by a seasoned engineering office, this model showcases noteworthy technical expertise. Convinced by this project, the Direction Générale de l'Armement (French Directorate General of Armaments) decided, as early as 2018, to invest 1.3 million euros in turbojets engine development.
Flyboard® Air is a mobility game-changer. It allows for a field of possibilities that Franky ZAPATA seized over time, surpassing records, and achieving great successes.
THE WILL TO SURPASS IN THE FOOTSTEPS OF HISTORICAL INVESTORS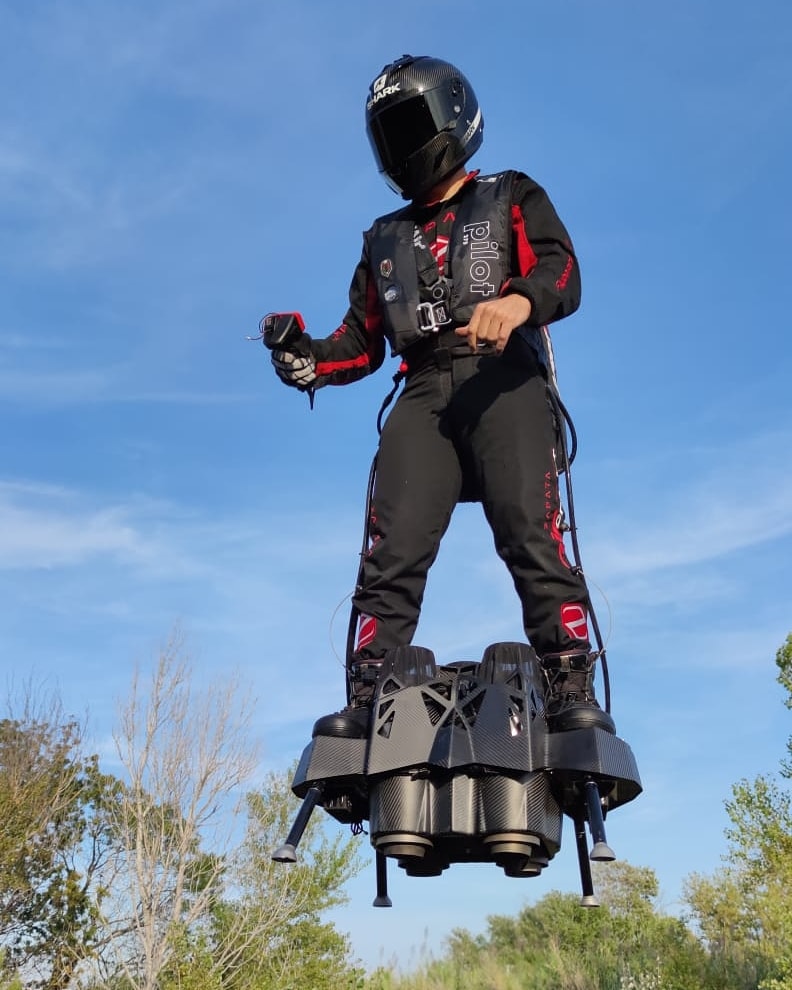 The summer of 2019 was an opportunity for Franky ZAPATA to introduce Flyboard® Air to the world during two major events.
During the French 14th of July parade, he performed a memorable demonstration flight in front of the presidential tribune, in the presence of the French president and his German counterpart. Two weeks later, he decided to pay tribute to a pioneer of aviation whom he admires, Louis Blériot, the first aviator to cross the English Channel. On Flyboard® Air, he went on the same journey, which led him to the English coast in 22 minutes.
This achievement puts him alongside historical inventors who both created and tested out their inventions such as the Wright brothers.
JETRACER: A FLYING LAB
In the middle of summer 2022, Franky ZAPATA revealed a third prototype:
Jetracer, a proper flying car. For the company, this was a second technological breakthrough. This prototype meets new standards of performance, accessibility, and security.
Jetracer serves as a flying lab: ZAPATA's main intention with this prototype is to leverage its key technical elements for its next model: Airscooter.
With its 10 reactors and top speed of 155 mph, Jetracer showcases ZAPATA's capability to produce secure and easy-to-operate flying machines, opening doors to the mass market.
AIRSCOOTER: A VISIONARY AND CONTEMPORARY FLYING MACHINE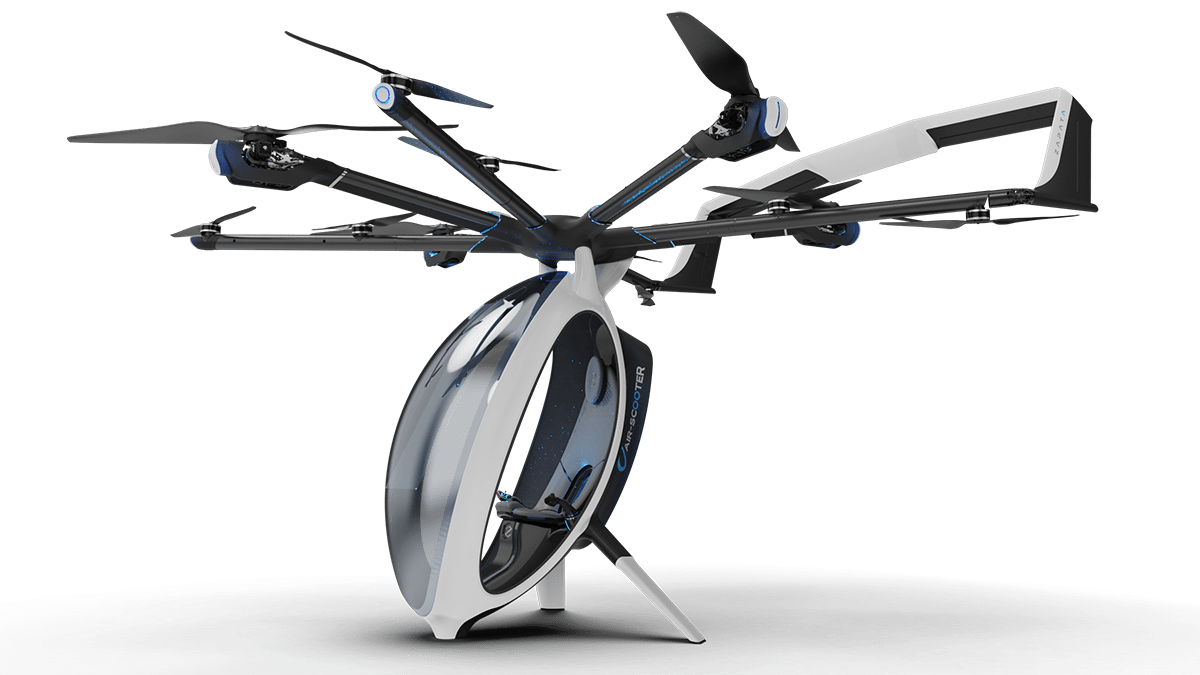 The French inventor and his team designed Airscooter to meet a new challenge. With its unique design, it represents a significant milestone as the first publicly available flying machine that offers unparalleled freedom of flight.
Accessible to all, it flies using a hybrid propulsion system that combines thermal and electrical energy. Airscooter is expected to serve multiple use cases. Initially intended for leisure purposes, it will gradually transform into a means of public transport.
In the professional sphere, it has numerous applications, such as for rescue or offshore operations.
Finally, the serial production of Airscooter marks a turning point for ZAPATA which became an authentic industrial company.
FRANKY ZAPATA'S UNIQUE VISION OF AIR MOBILITY
«I must admit, I think against my ecosystem: in the short term, I do not believe that eVTOLs will be used for short and intra-urban trips. The vehicles we build will not be tomorrow's substitutes for taxis and other short-distance vehicles.
In the medium term, I think that vehicles like AirScooter will be useful for regional traveling by connecting cities with dedicated infrastructure. The prototypes and vehicles we imagine will enable new intermodal passenger transport, complementing a train or plane travel with a stopover in an AirScooter.» Commented Franky ZAPATA.
Before turning it into a means of transportation, ZAPATA intends to open the doors of recreational aviation to the greatest number of people with the AirScooter.
Both enjoyable and responsible thanks to its hybrid propulsion system, it provides unparalleled freedom, for example, allowing sunny joyrides along the seaside.
He concludes, «Who knows, maybe in a few years, we will all have the pleasure of individually and automatically moving in eVTOLs. But you know me, I am a man of actions!»